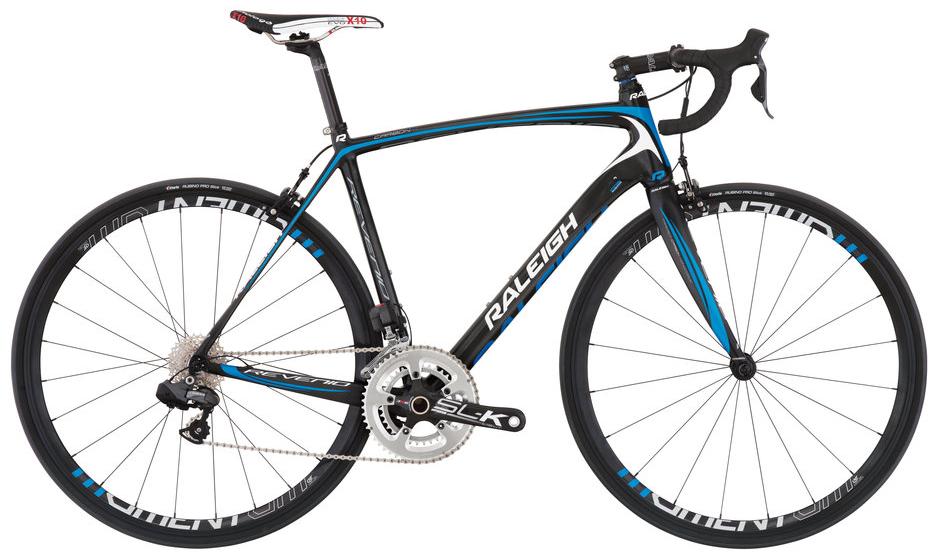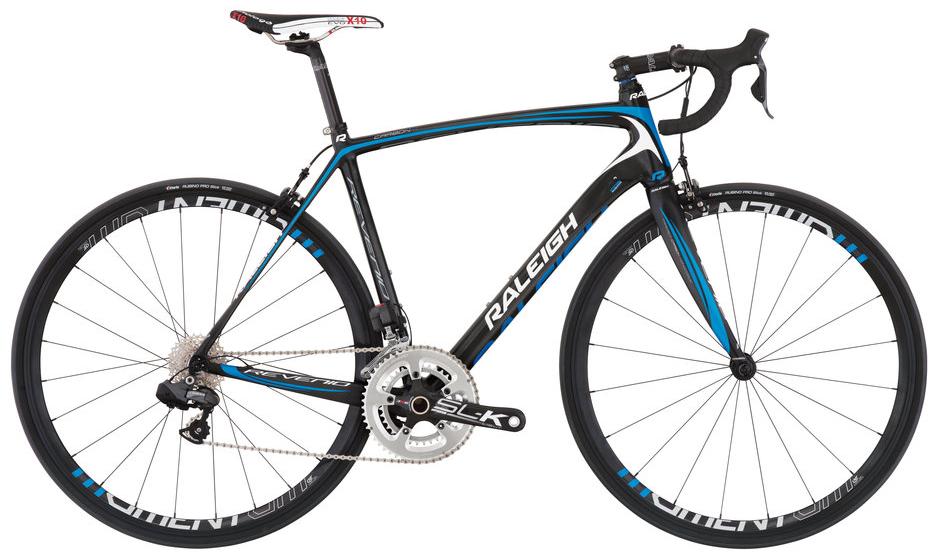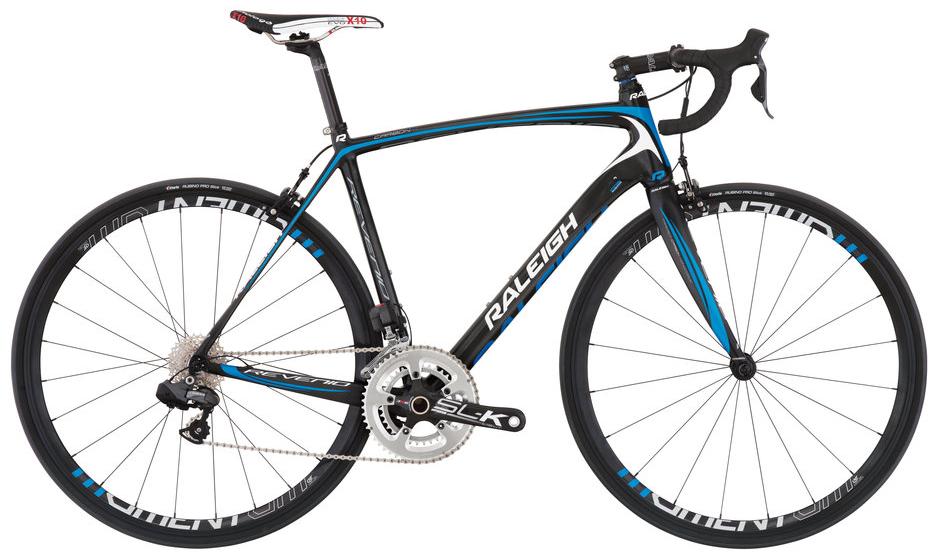 Share:
The Revenio 4.0 is the special blend of comfort, speed, technology and control. The Ergonomic Position will keep you riding comfortably on the bike all day long without experiencing muscle fatigue on your neck, back, or shoulders. And, it won't reduce the power in each pedal stroke. The 4.0 is equipped with Shimano's Ultegra Di2 electronic components, making shifting as easy as clicking a mouse. There's no need to worry about miss-shifts or adjusting derailleurs because once this group is set up you can put all your apprehensions behind you and focus on your cadence. Nope, the Revenio 4.0 is not your father's or grandfather's Raleigh. It's yours.
Highlights
All-new full carbon frame and fork
Shimano Ultegra Di2 electronic 11sp drivetrain
Lighter wheels with wider rims and sealed bearing formula hubs
FSA SL-K Light Compact BB386 EVO 36/52t crankset
Prologo Nago EVO X-10 Ti-ROX saddle

Size Guide: Revenio Series
Raleigh Sizing System
2014 marks the introduction of a new sizing system based on a database of bike fittings. Using our database of bike fittings helps better predict the frame dimensions for a bike size in a given height range. To use an example, our 56cm Revenio was designed using fit data from riders between 5'9" and 5'11". The fit data is used to develop the geometry, but also determine correct handle bar width, bar reach, bar drop and crank lengths. The Raleigh Sizing System allows both customers and sales staff to determine the correct size quickly by checking the size decal that is on the bike.
Geometry
Bike performance is directly linked to shape and fit of a bike. Endurance riders demand fast bikes that are comfortable enough to pedal for hours, the Revenio and Capri meet those demands. The 2014 Revenio and Capri have received updated geometries in both the alloy and carbon versions. A key highlight includes the slackened seat angle, which shifts the rider's center of gravity back and takes some weight off the handlebars. The result is reduced strain on wrists, elbows, neck and lower back. Less fatigue translates into improved stamina and comfort.
| Size | 52cm | 54cm | 56cm | 58cm | 60cm | 62cm |
| --- | --- | --- | --- | --- | --- | --- |
| Seat Tube Length ** | 490.0mm | 510.0mm | 530.0mm | 550.0mm | 570.0mm | 590.0mm |
| Standover Height | 760.0mm | 780.0mm | 800.0mm | 820.0mm | 835.0mm | 855.0mm |
| Top Tube Length * | 525.0mm | 545.0mm | 560.0mm | 575.0mm | 590.0mm | 605.0mm |
| Head Tube Length | 145.0mm | 165.0mm | 180.0mm | 200.0mm | 215.0mm | 230.0mm |
| Head Angle | 71.0° | 71.8° | 72.3° | 72.3° | 72.5° | 72.5° |
| Seat Angle | 74.0° | 73.0° | 73.0° | 72.8° | 72.5° | 72.5° |
| Chain Stay Length | 410.0mm | 410.0mm | 410.0mm | 410.0mm | 410.0mm | 410.0mm |
| Fork Offset | 50.0mm | 50.0mm | 50.0mm | 50.0mm | 50.0mm | 50.0mm |
| BB Drop | 72.5mm | 70.0mm | 70.0mm | 67.5mm | 67.5mm | 67.5mm |
| Stem Length | 90.0mm | 90.0mm | 100.0mm | 100.0mm | 110.0mm | 110.0mm |
| Handlebar Width | 400.0mm | 420.0mm | 420.0mm | 420.0mm | 440.0mm | 440.0mm |
| Crank Length | 170.0mm | 172.5mm | 172.5mm | 175.0mm | 175.0mm | 175.0mm |
| Seat Post Length | 300.0mm | 300.0mm | 300.0mm | 300.0mm | 300.0mm | 300.0mm |
* Measured Horizontally** Measured from Center
Technology: Revenio Series
The Scale is your friend
All Revenio bikes are lighter for 2014!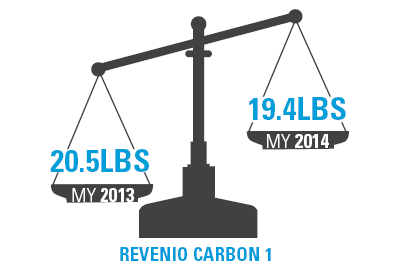 SEATPOST
All parts of the bike are interconnected. Being able to fine-tune these parts synchronizes you with the bike. That's why we are introducing a new 20mm offset seat post for our road bikes. This adjustment (12mm more than last year) slightly shifts the rider position and complements the new geometry to produce big results: relief of arm, neck, and lower back stress.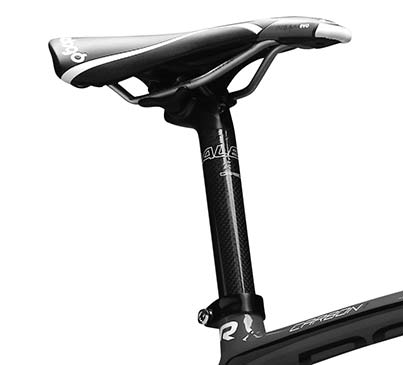 FORKS
All Revenio models feature revamped forks for improved stability and handling. All of the Revenio are spec'd with Raleigh custom all-carbon Monocoque tapered steerer forks. Other bikes in the fleet have either a new carbon-bonded 1.5" taper fork or a new chromoly fork (for the Revenio). We have created these new forks to give these endurance bikes the quick handling they deserve. All forks feature a 50mm offset to complement our new frame geometry. We adjusted the bikes' head angles to work with this new fork, and the result is a responsive, precise ride without any toe-overlap with the front wheel.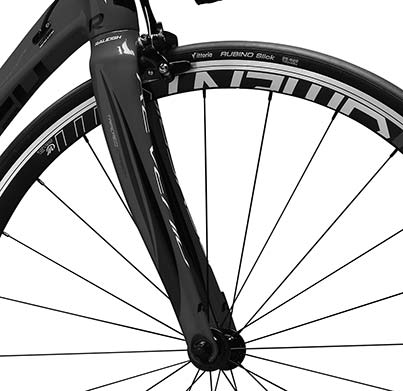 Wheels
The wheels bring a spark of life to a bike, and all 2014 Revenio models are lighter, faster, and more stable with upgraded wheel sets. All wheels are stiffer and feature premium hubs and wider rims. All hubs are either Formula sealed-bearing hubs or new Formula hubs with Smooth Bearing Technology and CNC-machined dust caps to keep out the elements. The newly designed lightweight rims will either be the 23mm Weinmann Gmax, or the 21mm Aerodynamic Momentum. These upgrades allow riders to run lower tire pressure with less tire roll. This will enable faster and more confident cornering.
The Finite Element Advantage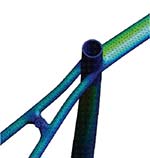 We love data, especially when the information gives us a competitive edge. We used the results from Finite Element Analysis (FEA), also known as "strength analysis," to optimize strength and stiffness as well as comfort. Consequently all 2014 aluminum and carbon Revenio frames feature updated seat stays, top and down tubes, and increased stiffness in the right spots for highly efficient and extremely comfortable road bikes.
Specs
| | |
| --- | --- |
| Sizes | 52cm  54cm  56cm  58cm  60cm  62cm  |
| Frame | Direct Connect T700 Carbon, Tapered Headtube and CDS Internal Cable Routing |
| Fork | Full Carbon Monocoque 1-1/8" to 1.5" Taper |
| Headset | FSA Integrated Cartridge Bearings |
| Cranks | FSA SL-K Light Compact BB386 EVO 36/52t |
| Bottom Bracket | FSA BB-EVO8681 |
| F. Derailleur | Shimano Ultegra Di2 |
| R. Derailleur | Shimano Ultegra Di2 |
| Shifter | Shimano Ultegra Di2 11spd |
| Cogset | Shimano Ultegra 11spd (11-28t) |
| Chain | Shimano Ultegra |
| Brakes | TRP R870 Dual Pivot |
| Brake Levers | Shimano Ultegra Di2 |
| Front Hub | Formula RB91 Alloy QR Sealed Bearings 20h |
| Rear Hub | Formula RB241 Alloy QR, 4 Sealed Bearings, 11spd, 24H |
| Spokes | 14/15g Stainless Double Butted MAC |
| Rims | Weinmann Momentum Double Wall 21mm Wide |
| Tires | Vittoria Rubino Pro Slick Folding 700x25c |
| Handlebar | Raleigh 200 Series Road, 31.8 Short Drop |
| Grips | Gel Tape |
| Stem | Raleigh 200 Series, 3D Forged, 31.8 |
| Seatpost | Raleigh Carbon Series 27.2x300mm |
| Seat | Prologo Nago EVO X-10 Ti-ROX |
| Colors | Matte Carbon/Raleigh Blue |
| Extras | Shimano Di2 Battery Charger |
| Note | Specifications Subject to Change |