Fall is a wonderful time to ride a bike. The air is cool and crisp, and you can cruise to work, school, or the store in style without having to practice a lot of sweat-management techniques. Dressing for cooler temps can still be tricky, though, since it's easy to overdress and arrive at your destination feeling a bit mussed. Here are some tips for effortless fall layering: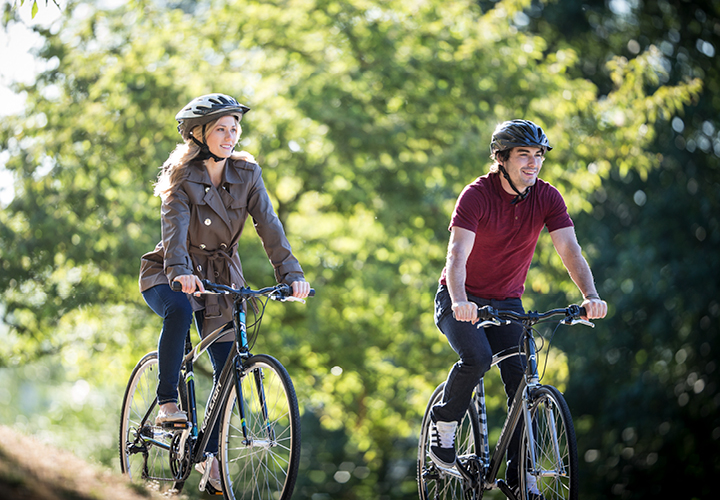 When it's cool but sunny, add a lightweight, breathable thermal layer such as a vest or a fine-knit merino cardigan. You'll have that little bit of added warmth without too much bulk. Plus, the breathability will keep the air flowing so you don't overheat while you're pedaling in the autumn sun.

 

On cool, overcast days, try a lightweight jacket, wind-blocking vest, or windbreaker instead. You can feel clammy quickly on cloudy days, so aim to block the wind without adding any insulation.

 

Try a performance base layer if you are riding longer. High-tech fabrics wick perspiration away from the skin, keeping you dry and comfortable. Then layer with your usual street clothes. Try a cardigan, lightweight blazer, or one of those cute short-sleeved jackets that are just right for fall.

 

For rainy days, even breathable waterproof jackets can get a bit steamy inside during a ride. Look for jackets with pit zips so you can regulate your temperature better. Or, if it's not a full-on downpour, try a wool sweater. Wool stays warm even when wet and has naturally occurring oils that repel water.

 

Get colorful! A scarf is sometimes all you need to add to stay warm and pull your ensemble together. Or try pairing a skirt or dress with some contrasting tights. Add some cute boots and you're ready to roll in cool fall style.

 

Try some commuter jeans for style and function. There are several clothing brands that offer jeans cut specifically for cyclists. Look for a slightly higher back waist for more bum coverage, reflective detailing so you'll be more visible to drivers, gusseted or off-set seams at the crotch for comfort, and water-shedding fabric to keep you dry in wet weather.

 

On those days when it's cool in the morning, grab some gloves. You won't have icicle fingers on the brakes, and in the afternoon you can slip the gloves in your bag for the warm ride back home in the afternoon.