An off-season for roadies? Get real
Ever wondered what Raleigh pro riders do in their off-season? We wondered, too. Were they Nordic skiing? Maybe running or hitting the gym? Tasting the surf in Mexico?
As it turns out, all of the Raleigh mountain bikers and roadies are … occupied in the winter months. No piña coladas on a beach for them! They're busy getting covered in mud, fighting frostbite on their fingers and toes, crashing into the woods, and generally having the time of their lives. The Raleigh racers have, of course, discovered cyclocross.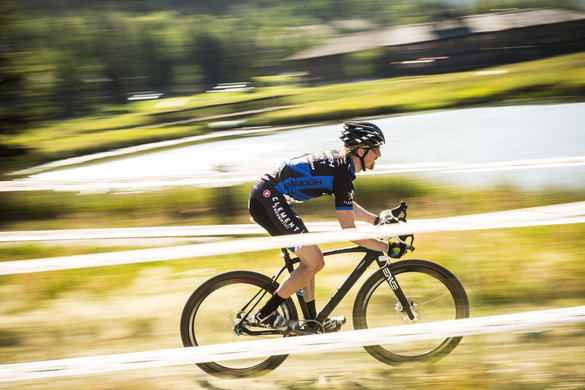 "It's a great way to keep some high end," Allen Krughoff, a Raleigh pro for the past two years, says. "If you race once every couple of weeks, it's a great way to get in your VO Max efforts and keep that intensity for next season." While rest and base is important, many roadies spend the early months of the season complaining that they lack intensity, so what better way to make sure it's still there?
"It's a great way to learn new skills," Raleigh pro Jamey Driscoll adds. "For roadies, it helps with technique, and you never know when that will come in handy in a road race." He's not bluffing. In the pro peloton last year, several riders saved themselves—and others—from disastrous crashes by bunny-hopping curbs to avoid collisions in crits, thanks to cyclocross training. For the mountain biker, cyclocross may be a great way to improve fitness, since it tends to have higher intensity than most MTB races.
The biggest reason that each racer gave for embracing 'cross? Frankly, it's just plain fun.
TAKE ON CYCLOCROSS
Cyclocross is a welcoming, easy-going community of whacko racers, ranging from those who like to take bacon hand-ups on the second lap to those who race with PowerTaps and obsess over power per kilo, even in December. Whether you're a hardcore racing addict or a casual weekend warrior, a 'cross race will make you feel right at home.
For those of you who spend the summer chasing races, spending fall and winter in the local 'cross scene can also prove to be a great way to see old friends, or make new ones. It's a lonely life sometimes, racing on the road or on the trails, but in cyclocross, it's all about the community.
Definitely hanging up your bike for the season? Why not jog over to a race some weekend, or if the ground is snow-covered, just thrown on a pair of skis and scoot over to check out the racing action.