The Cheetah: Limited Edition Track Bikes Built by Raleigh Bicycles and Don Walker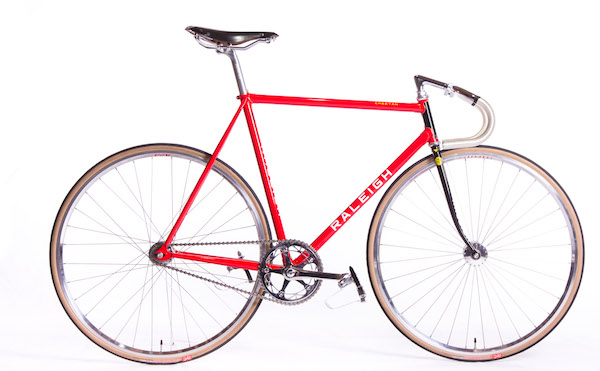 It's been a long time coming. At Raleigh, we're excited to announce the launch of two limited edition track bikes, built in collaboration with handmade bicycle builder Don Walker, to celebrate and commemorate Nelson Vails' 1984 Olympic medal. Vails was the first African American to win an Olympic medal in bicycling.
During the 1984 Olympics in Los Angeles, Vails earned a silver medal in the individual track sprint. Two versions of this bike are now available: the Cheetah, a modernized version of Vails' 1984 race bike, and the Cheetah Race, a lighter, more aggressive and aerodynamic version.
"The Raleigh brand has a rich and deep heritage that spans over 130 years," said Steve Westover, Raleigh's director of marketing. "We felt it was time to celebrate our heritage with a series of projects. Our collaboration with Nelson Vails and Don Walker epitomizes that."
Both of these steel Raleigh bikes are made largely from made-in-the-USA parts at Walker's one-man shop in Kentucky. The tubing for the Cheetah is Vari-Wall (Columbiana, OH), castings are made by Henry James (Portland, Ore.), and additional components are from Phil Wood (San Jose, Calif.), Velocity Rims (Michigan), and Cane Creek (Fletcher, N.C.). Raleigh Bicycles chose to work with Walker on this project in part because of Walker's lasting friendship with Vails. The two met at the 1983 Track Nationals on the warm-up track before Walker's event.
"This is one of the most exciting projects I've been a part of in my career as a frame builder," said Walker. "Not only do I get to build bikes for a legend like Nelson, but I get the added bonus of them being for my friend." 
For Vails, who was inducted into the U.S. Bicycling Hall of Fame in 2009, the project is equally exciting. Although he doesn't race anymore, Vails has had a lifelong relationship with Raleigh Bicycles (he raced for the Levi's/Raleigh Pro Team) and still loves to ride.
"What I've always liked about cycling, then and now, is the freedom. Getting in some fitness and being outside," said Vails. "When I think back on my lifelong relationship with Raleigh, and my racing days with the team, I remember there were many moving parts between working directly with engineers at Raleigh to create the bike and how it all came together. I remember thinking 'This bike really works.' Raleigh took the time to sponsor me and develop a bike that would one day become a part of world cycling history."
Want to reserve your piece of cycling history? Bikes are available for pre-order on RaleighUSA.com.