Eastbound and Down, Bikepacking Across Washington State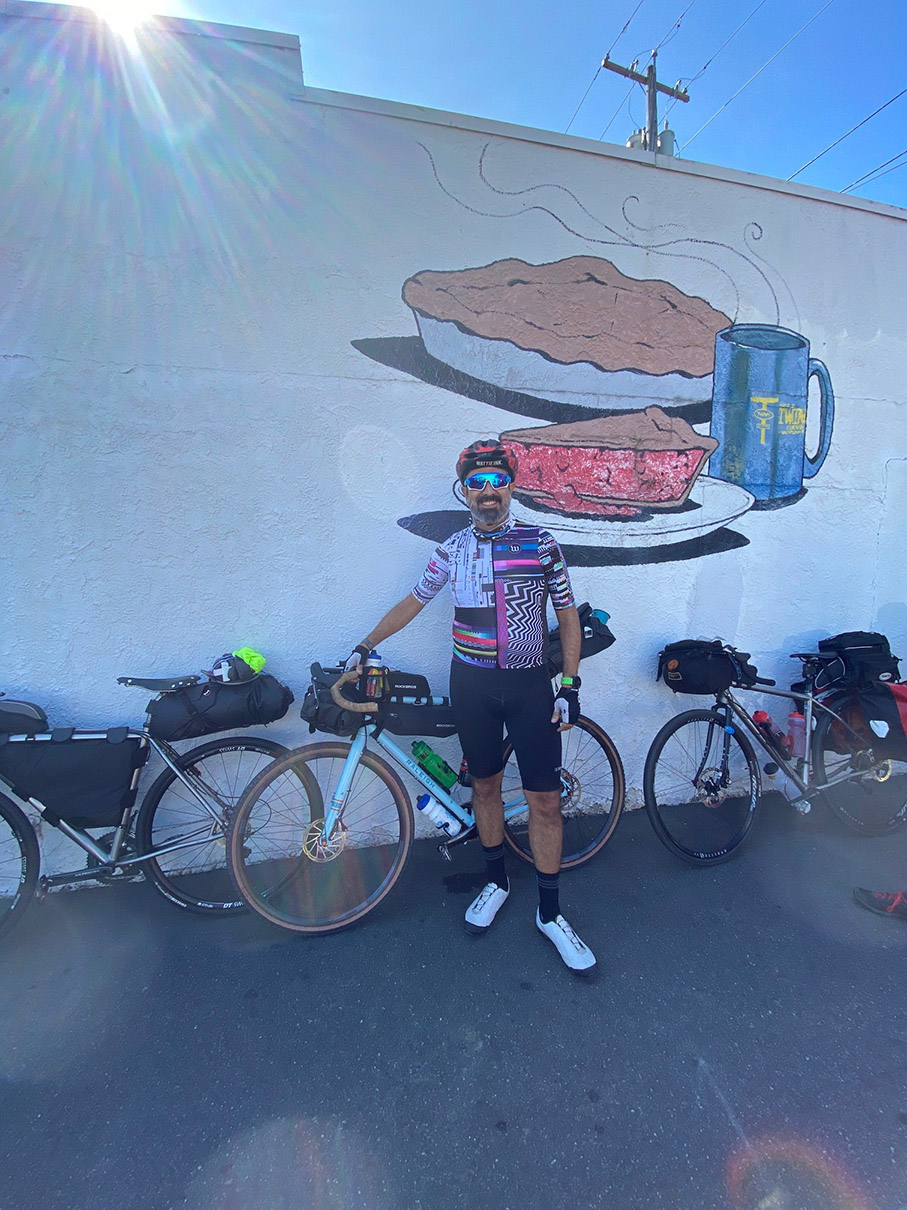 2020 has been the year of canceled races. As athletes, we plan the races for the upcoming year well ahead of time, and I had decided that 2020 was going to be the year of gravel races for me, but as March came along and the world started shutting down due to Covid-19, my plans started collapsing and most races were getting canceled or postponed.
Fast forward to the end of May, a few months into the COVID stay at home order, my friend Robbie called me and ask if I would be interested in joining him and a few friends in a gravel bike camping expedition.
300 miles, mostly gravel from North Bend to Spokane, I did not hesitate.
Airplane ticket in hand, bike gear packed, this was just the trip I needed.
Thursday June 25th, I landed in Seattle at 7pm and Kris (Robbie's girlfriend) picked me up and we drove to Robbie's place.
I spend the rest of the evening unpacking and putting my bike together for the adventure that would start the following morning.
Friday, Day 1- "green and lush" - we loaded Kris' car and drove to North Bend, about 30 minutes east of Seattle where we would meet the rest of the gang at Twede's café.
There was 12 of us and only 2 the 'Moots" have done bike packing before and were very experienced travelers.
The rest of us were uncertain of what was to come but we all had the experience of long-distance triathlons and were not strangers to riding long hours on our bikes.
A quick meet and greet and we started our adventure for the 85 miles planned for the day.
One minute in, we came to a stop - a snapped chain followed by 3 flats within the first 5 miles, thankfully it wasn't me.
We rode from North Bend to Ellensburg, most of it on gravel, with views that no photo will do justice. We rode through a pitch-black tunnel for 2 miles – wasn't sure if I was going to see the day of light again!
Day 1 done – reaching a KOA in Ellensburg, we set up camp, it was only my second time setting up my new big agnes fly creek HV UL 2 bikepack tent, surprisingly it was very easy to set up and in about 5 minutes I was all set (well maybe 10),  took a hot shower, enjoyed some dinner and with an exhausted body and mind hit the bed.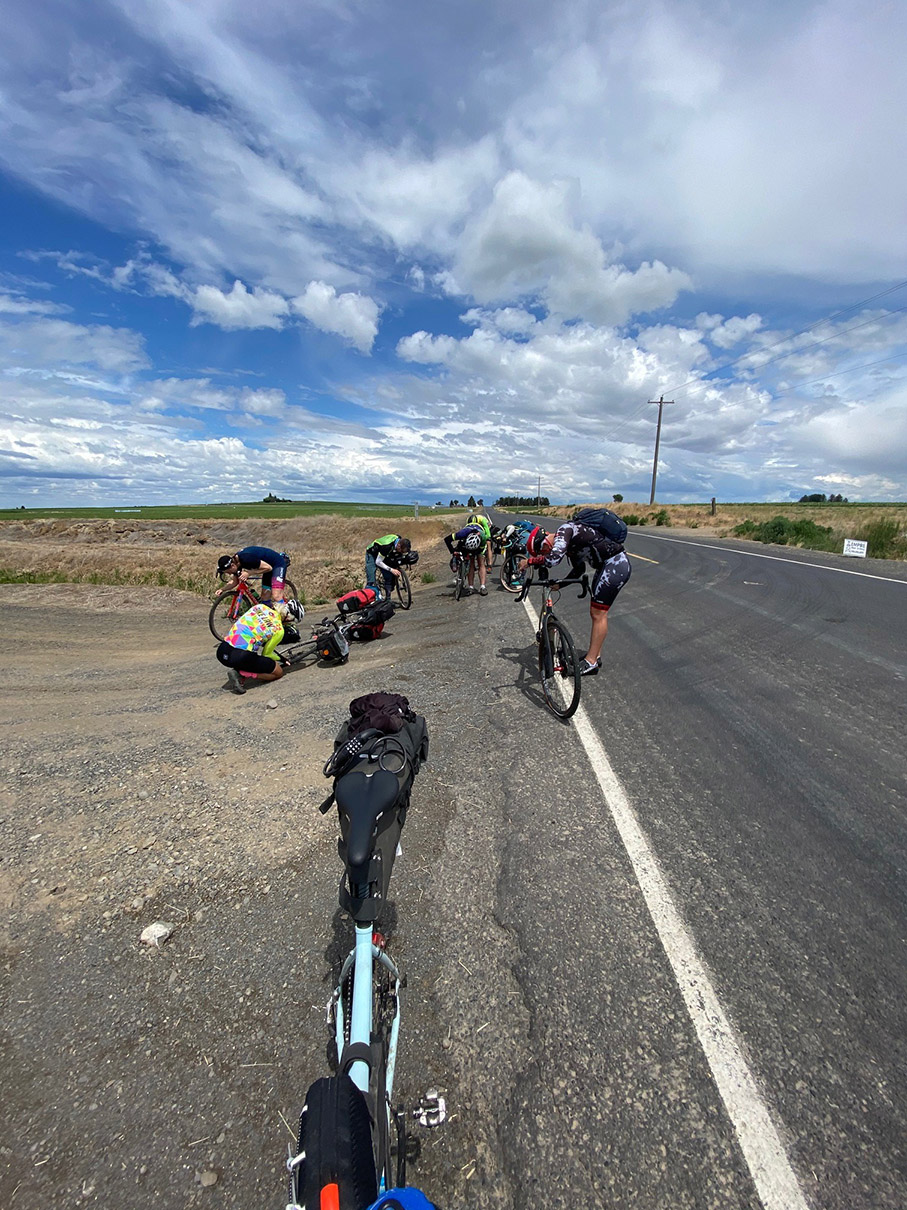 Saturday, Day 2 - "windy and flat"- we had a 45-mile route, someone called it recovery day, another, easy day before the 100 miles we had planned for Sunday, we later learned not to listen to predictions about the day.
The ride from Ellensburg to Sand Point would start smooth until we got to a bridge that was impossible to cross. We decided to hike our bikes down the side of the bridge and back up until we found our way back to the iron horse trail.
To our joy we just found endless miles of soft sand and a tunnel full of tumbleweeds, and swamps and bamboo on the other side of the tunnel. We thought we survived the tough part to only find sharp rocks during the last stretch of the route.  
I was enjoying my ride when I got a flat, running tubeless was great, turn the wheel a little then pump some air and ride again, just to be flat again and again.
I had a small cut in the sidewall of my tire and at this time I was riding alone, waited for about 30 minutes and did not see anyone so decided to just walk my bike until someone would catch up to me.
I sat on the side of the trail feeling defeated until Nicole caught up to me, she gave me some moral support, I pump more air then I got flat again.
I ended up having to pump air a few more times until finally we made it to the road, a few more people caught up by this time and we rode together against the wind for the last few miles.
Only a few miles from our bbq stop, and after getting the last flat of the day,  I called Kris to come and pick me up, I couldn't take pumping up my damn tire again.  
Kirby (drove a few hours to meet us and had food ready) had the BBQ going by the time I reached camp - she also prepared some amazing plant-based food and we all got to enjoy this amazing home cooked treat. We all (especially me) needed an early night after a tough day and a very long day ahead tomorrow.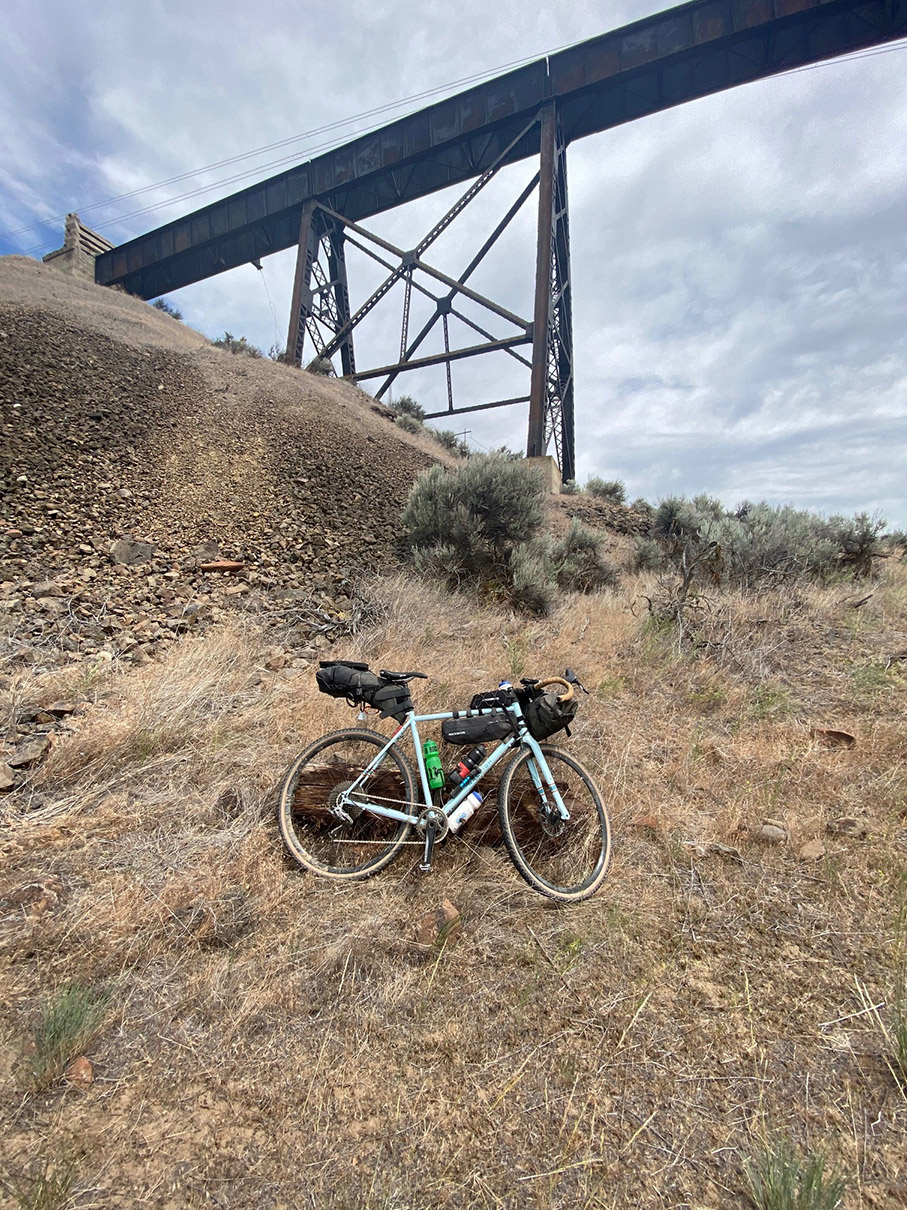 Sunday, Day 3 - "stormy, and a lot of flats" - Sand Point to Ritzville, 96 miles, there was a storm coming and we needed to beat it. We were racing against the clock of nature.  
We started the ride in the rain and the first 35 miles went very smooth and fast.
We needed to make it to Warden before the storm, thankfully we were making some good time, enjoying the ride and views until we all rode through a wheat field.
Every single one of us got goat heads in our tires, having to spend the next hour pulling 200 goat heads (no kidding) from our tires.  By this time the storm was ahead of us, we got wet and had to seek shelter as there was thunder.
Eventually the sky cleared and we were able to continue our way to Ritzville. Knowing we had rooms in a hotel waiting for us this got us through the remainder of the ride.  
Monday, day 4 - "the finale – with a stop at Amber Lake" - Ritzville to Spokane, 83 miles.
The ride began through some farm roads and back country fields to Lamont where Kris and Tracie were waiting for us to refuel. This was another great treat, I had 4 vegan chocolate cupcakes!
The weather was great, we got on the Columbia Plateau trail and stopped at Amber Lake to cool off in the fresh cool water.
We continued on to the Iron Goat brewing Co. which was technically our "finish line". Beer and food was the motivation for the day.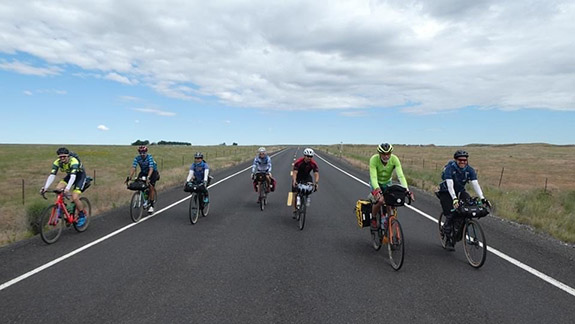 My biggest take away is that in bikepacking you need to fuel with real food, one day I had 4 apples during my ride, save the gels and energy bars for the Ironman events.
What an adventure – it's hard to summarize in a few words what the past 4 days entailed. Great gravel, breathtaking views, friendly faces, estrangers that became friends,  and an unforgettable adventure.
Where to next?
My gear: Raleigh Tamland 2, WTB Raddler 700x40, WTB volt race saddle, e*thirtheen 11-46 cogset, sram rival 1, 11 speed. Wattie ink team kit, Balega socks, Rockbros bike bags