Erica Zaveta Soars with Amy D Racing and the Raleigh-Clement Team
Dan Dombroski held a stacked resume in his hands. It listed collegiate gold medals in mountain biking and cyclocross. Solid results in road races. A history of riding for a professional team and the U.S. national team. International racing. The name at the top read "Erica Zaveta."
A native of Erwinna, Pennsylvania, Zaveta had applied for the Amy D. Foundation's first racing scholarship. If chosen, she would compete in elite American UCI cyclocross races under the wing of the successful Raleigh-Clement cyclocross team during the 2014/15 season.
Dombroski established the Amy D. Foundation days after his sister Amy passed away at age 26. She was hit by a truck in October, 2013 while training on a bike in Belgium. An upbeat and popular professional athlete, Amy raced cyclocross and mountain bikes.
To celebrate Amy's passion for cycling, the foundation decided to help promising young female riders progress to the top of cycling competition. Raleigh-Clement team manager Donn Kellogg had worked with Amy. He offered assistance and the Amy D. Racing scholarship program came together. Caroline Mani, a seasoned 'cross rider on the Raleigh-Clement team, would mentor the scholarship recipient.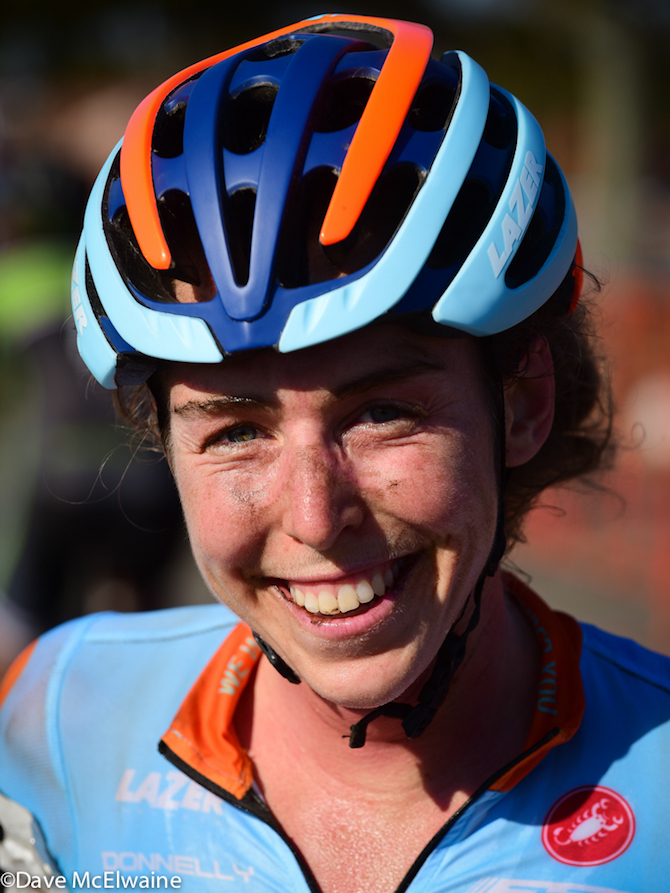 Zaveta was selected from about 34 applicants based on her racing potential and ability to represent Amy's spirit and the foundation. Wearing a blue and orange Amy D. Racing skinsuit in her first race of the season at CrossVegas, the biggest U.S. 'cross race, she finished an extraordinary ninth against the strongest women in the country.
Afterwards Zaveta received over 100 social media notifications. "It was crazy. My phone was just blowing up and it was a really cool feeling. There's huge support and excitement for the foundation and I want to represent that well," she said. "Amy's passing is still emotional for so many people. At races people who don't know my name will cheer, 'Go Amy D.!' They walk up to me and tell stories about how they knew Amy."
Now 25, Zaveta began her competitive career at age 15 with road racing. She tried cyclocross for fun before she turned 18 and won a junior state championship. At Lees-McRae College in North Carolina, and later at Brevard College, she blossomed in collegiate cycling.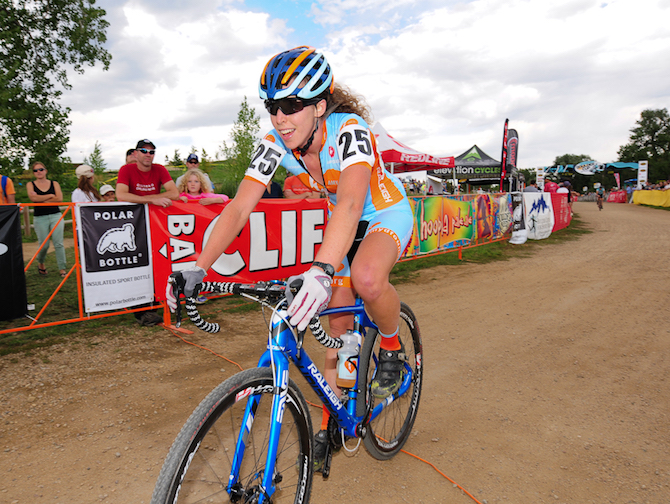 "Collegiate for me was really, really huge. It was an opportunity to race everything...mountain bike, even track for one season. I jumped in as many 'cross races as I could."
While at Lees-McRae in 2011, Zaveta's teammates Carla Swart and Megan Baab were hit by vehicles in separate accidents while training. The loss of her friends brought home the experience of suddenly losing someone so young. "I guess one of the biggest connections I feel with the Dombroski family is that feeling and how long [grieving] takes," she said.
Zaveta met Amy in Europe during mountain bike World Cup racing in 2012. Still green to international racing and living in a foreign country, Zaveta was struggling. Amy provided the medicine she needed: a friendly face, and an offer to help with questions and team opportunities.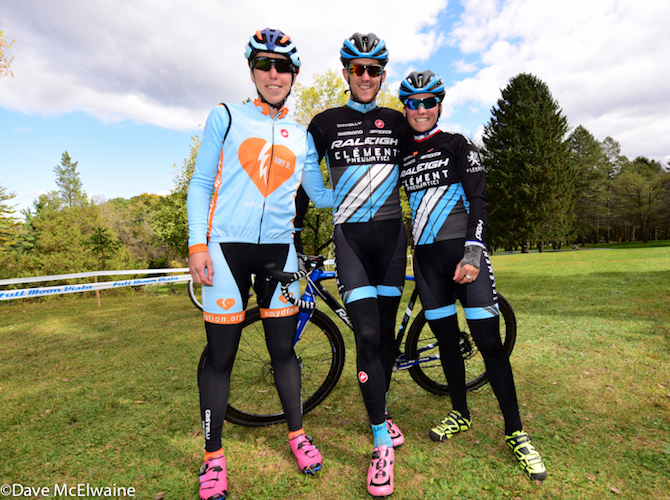 Many aspects of cyclocross appeal to Zaveta: the 40 minute race intensity, opportunities to improve in every lap, and an individual pace combined with matching rivals' accelerations. The friendly, fun atmosphere hooked her initially. "When you get too serious about it, you realize you're running around in a field with a bicycle – it gives you a good perspective."
Racing alongside Raleigh-Clement, Zaveta has hit personal best after personal best. First came a top five result in mid-October. Two weeks later she won her first UCI race at Gateway Cross Cup in St. Louis, Missouri.
The Raleigh-Clement riders have embraced Zaveta as one of their own. They pre-ride race courses together, identifying lines and trouble spots. Team mechanics dial-in her bike for every race. She's learning about equipment, bike skills, and training techniques. "And then Donn [Kellogg] managing the team," she added. "He's been in the sport forever. Being a part of this connection has been huge."
When this season's more intense racing schedule required different training, Mani and Jamey Driscoll, one of the strongest elite American riders, supplied advice. "That for me is really a confidence booster, knowing what they're doing and how I can incorporate it. Ben [Berden] has been helpful in a lot of different ways, encouraging me…They've really been awesome."
Mani, who took part in the scholarship selection process, shares her expertise in technical skills and the tactical elements of racing, like when to wait versus attack. "She's a great girl, really nice and humble and willing to learn so it is really cool to be around her," Mani said, speaking about Zaveta earlier in the fall. "I think she is going to have a great season. It's going to be good mojo for everyone [on the team]. I'm really happy about what they did in memory of Amy. I think it's a great program that will help Erica get a step higher."
Now at the beginning of November, Zaveta feels she's already changed, though still has a lot to learn.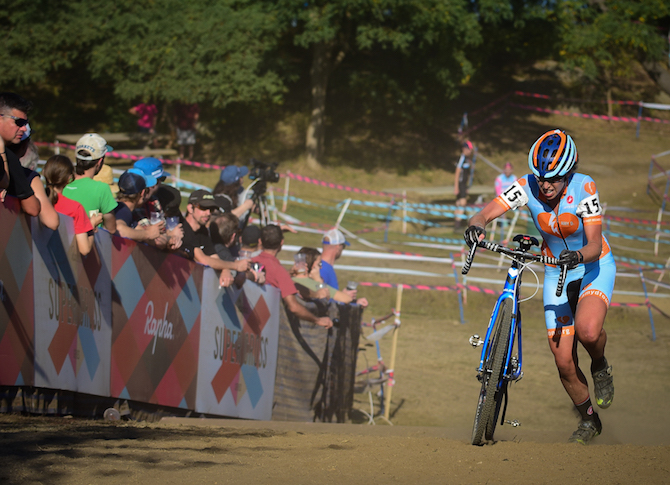 "When I won collegiate mountain bike nationals for division one, that was really cool," Zaveta said. "It meant a lot to me, but right now I just feel like a totally different athlete. And it doesn't feel temporary…I definitely would say it's my best season racing bikes so far.