Great Starts Ambassadors: Meet Marilyn Price
Marilyn Price is a breath of fresh air
Seventy-four-year-old Marilyn Price loves the thrill of the ride. When she's not busy running Trips for Kids®, the organization she founded back in 1988, this septuagenarian Great Starts Ambassador is out exercising and running errands on her bike, soaking up the beauty of the Northern California landscape. We spent a little time with Marilyn and got the inside scoop on her foundation, her motivation and her favorite hobby…riding.
The gift of the ride.
Marilyn started biking at age 4 and hasn't really stopped since. She recalls the day her dad let go of the seat of her bike for the first time. Marilyn was captivated by the thrill — and sense of accomplishment. A few decades later, she tells us she tapped into that emotion by starting Trips for Kids®, a non-profit that provides mountain bikes and environment education for at-risk youth.
"The kids light up when they see the bikes - they love the rides! We've been
fortunate to have Raleigh as our bike sponsor for the past year."
Since it's inception, Trips for Kids® has grown to more than 85 chapters nationwide, combining lessons in confidence building, achievement and environmental awareness through practical skills, not to mention the simple act of having fun. To date, they've opened up the world of mountain biking to over 140,000 kids.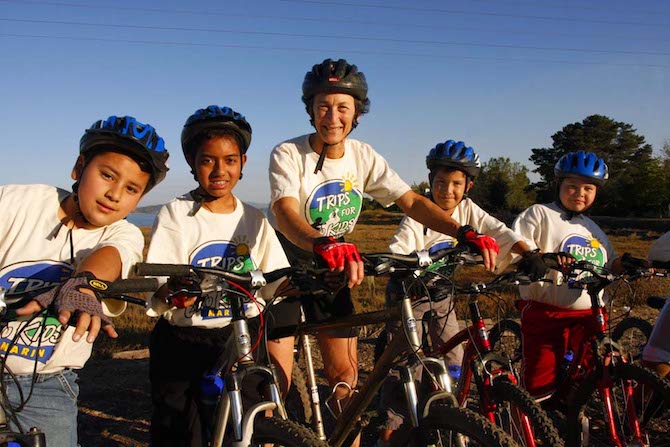 Biking is a pretty powerful thing.
Both the kids and advisors have something to say about the power of biking, and Marilyn couldn't be more proud.
"Thank you Trips for Kids. I really enjoyed bike riding with you guys. You helped
 me learn that if I push myself, I'll be able to accomplish what I want to do in life."
"Being able to do something like this has in a way changed how I feel about the outdoors."
"The trip boosts my students' self-confidence in many ways. Students who struggle
inside the classroom academically may shine when it comes to bike riding."
"The kids gain enthusiasm and appreciation of the outdoors, learn the importance
of exercise, gain confidence and the willingness to try something new."
To learn more about Trips for Kids®, make a donation or start a chapter, visit TripsForKids.org.

Meet our other Great Starts Ambassadors!