How One Mom Turns Books and Bikes into Lasting Change
Our Raleigh Bunch contest has come to a close, and we're excited to announce our winner is the Hunter family from Cincinnati, Ohio! Libby Hunter was nominated by her friends at Spun Bicycles for her dedicated work on youth literacy programs in their community. We caught up with Libby and the folks from Spun Bicycles to find out how it all got started, and what part bikes can play in promoting the cause.
One day while working in real estate, the Cincinnati native experienced a group of kids throwing rocks at one of her clients in a wheelchair. After talking with them, she realized that they didn't have anything to do outside of school and were in need of a healthy way to express themselves. Soon after, the single mom of three teenage boys left the real estate business to start WordPLAY, a nonprofit dedicated to helping children find their voice through literacy and creative expression. After only two years, the organization has numerous programs all serving local K-12. "The after school program is the biggest thing we do," says Libby. "Eighty-five percent of kids we serve are at or below the poverty line. We offer everything from basic literacy skills to advanced writing classes, but most importantly we're about creating a supportive community."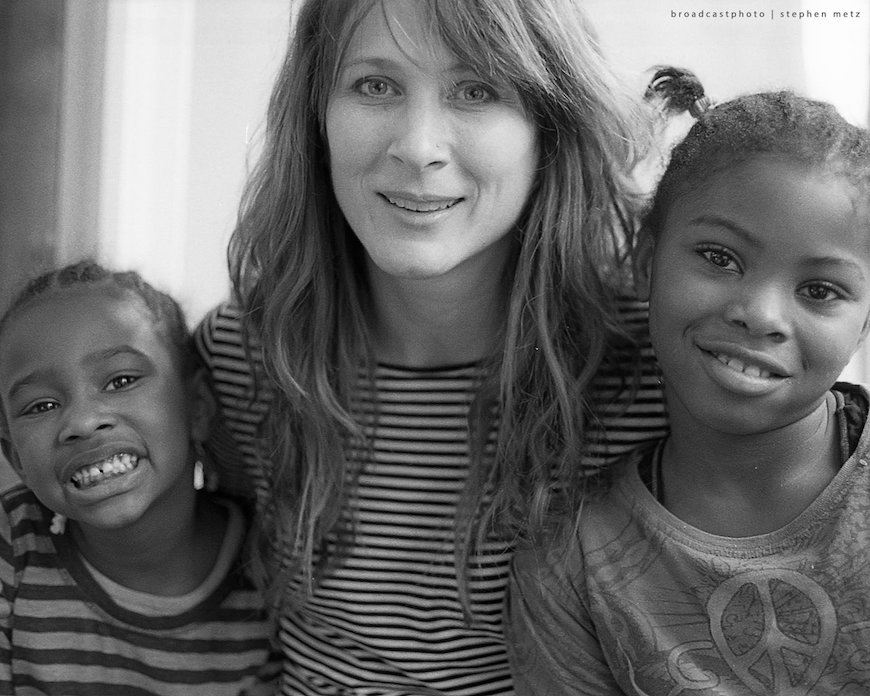 In addition to offering new programs, like their multi-school poetry slam competition and support groups for remedial high school students, Libby is all about bikes. "I have three teenagers and am a single mom. Biking is our favorite go-to thing to do together," says Libby. She and her kids have been long-time regulars at the local MoBo bike co-op, which is where they met Judi from Spun Cycles. "I've known Libby and her boys for a few years now," says Spun co-owner Judi LoPresti. "I used to run the kids day program at MoBo and her boys were always coming to work on their old bikes."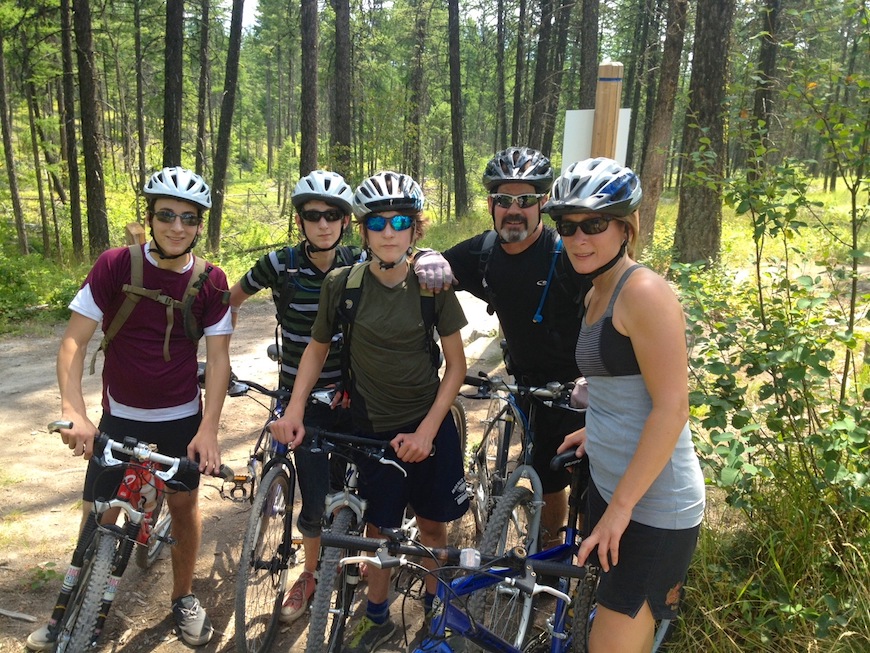 After Judi saw WordPLAY take off, she asked Libby to team up with her for Ride For Reading. Started in Nashville, Ride for Reading aims to help children in low-income areas become healthy and literate. After teaming up with a couple of other local groups, together they donated 400 books to 30 kids via bicycle last year. This year was huge, with 2,000 books donated to 200 kids at a local school in need.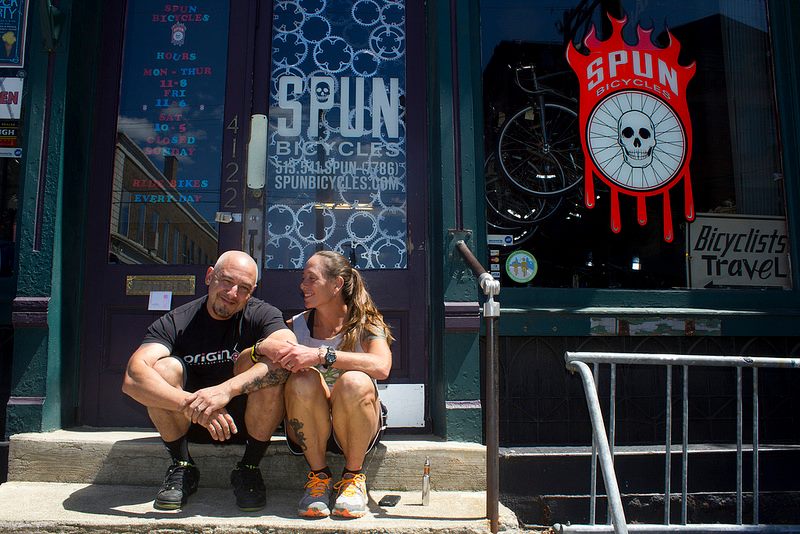 Spun Bicycles may be newer to the neighborhood, but they've quickly become an important part of the Northside community. "They are amazing – Judi and Dominic, they are truly community based," says Libby. Shop owners Judi and Dominic LoPresti met in a bike shop, their first date was a bike ride, and they got married in a four-and-a-half minute ceremony in Las Vegas during Interbike in 2010. "It was a great time," recalls Judi. "Our bike shop owners were there, along with some of our friends in the bike community." Just a year later, their dream of running their own bike shop came alive, and since then they have celebrated bike culture in every form. According to Judi, they don't really focus on racing. "Most of the other shops in town do just that. We cater to our community and the needs of our customers by stocking affordable accessories and bicycles."
The moment you walk in, you can tell this shop is different. They have a skateboard bench Dominic made out of boards and a big plasma on the wall. They watch videos of BMX mostly during the day, or a cheesy '80s horror flick on Netflix. The shop is actually catty-corner to WordPLAY in an up and coming area of town where people make an effort to shop local and support small businesses. "We are not that serious and everyone has a good time here," says Judi. "We show up for community events, parades on the 4th of July, we donate to the bicycle advocacy group Queen City Bikes, and we support the kids as much as we can."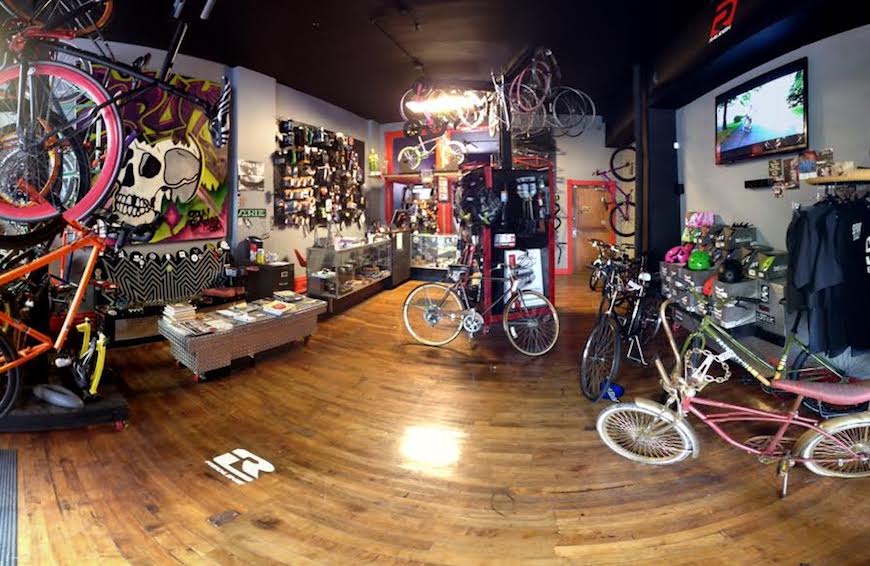 As for the new Raleigh bikes for the Hunter family? "We are in love with the bikes!" exclaims Libby, who got a brand new Raleigh Capri 2.0. After never owning her own road bike, her new bike is proving to be quite the change. "It's so light and responsive. I'm so grateful to Raleigh for them, I never could have afforded buying new bikes." The family is logging major miles too, having normally just commuted around town or done shorter rides, suddenly they're going on 30 to 40-mile bike rides. "One of my boys woke up at 7:30 a.m. the other morning just to go on a bike ride by himself. They can't stay away from the bikes." Her eldest son is on his way to college soon, and he's already eyeing schools out West in Seattle. One of his top criteria? A bike commuter friendly city. Another son is currently apprenticing at Spun, and has had a summer job at MoBo to learn the ropes of bike mechanic work.