Pax2Pax: The Johnny Strong Charity Ride for Childs Play
When Marine Jay Knight returned home after two tours of duty in Iraq, he knew his mission was not complete. His good friend and fellow member of Mobile Assault Platoon 2, Lance Corporal Johnny Strong, was killed in action in 2007. Knight wanted to "help his memory live on in a way that exemplifies his aspirations and caring heart." Since Strong was an avid video gamer and aspired to learn how to create games, Knight decided to honor him by cycling across the country to raise money for Child's Play, a charity that provides games and other welcome diversions for children in hospitals. One little detail—that Knight was not an avid cyclist—was no deterrent.
The plan that came together was to ride between two major video game expos: PAX East in Boston and PAX Prime in Seattle, a ride of 4,400 miles in 145 days. Along the way, Knight would also visit hospitals that were beneficiaries of Child's Play, meeting staff and patients. Another fellow retired Marine, Denny Salisbury, an experienced cyclist and a ride leader with the veteran's group Ride 2 Recovery, insisting on coming along, because in his words, "you don't let a buddy go off alone."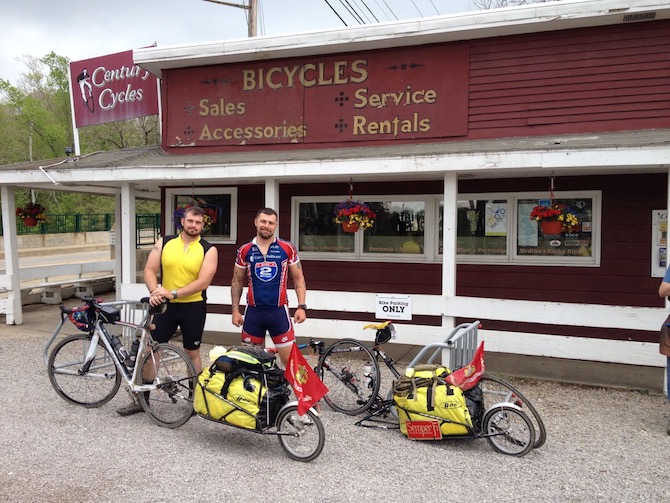 Things got tough on the very first day of the ride. Knight had purchased a carbon fiber race bike, a Raleigh Militis 1*, planning on traveling light with the aid of a SAG wagon. But the support did not materialize, so he ended up towing a trailer stuffed with gear. "That was probably the only day I felt like quitting…it was the first time I rode with a trailer on a bike, was not used to it, and had to cover 78 miles with hills." Over the course of the ride he learned to handle the 80lb beast hanging off his back wheel. He worried that the frame would not handle the stress, though the bike handled perfectly.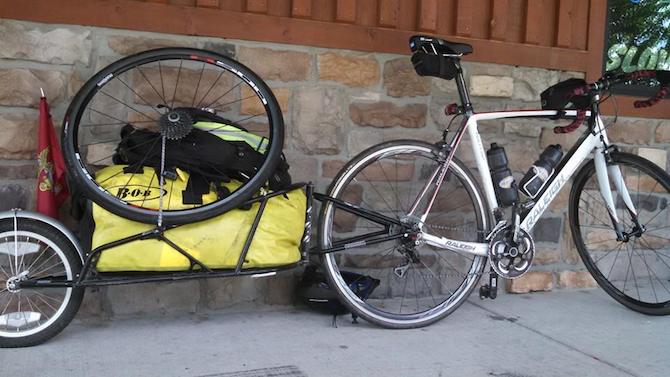 Knight says that accepting help from people along the way was one of the best parts of the experience. "We did not have money to get hotels or food—it was the strangers we met all along the route that came out of the woodwork, cooked for us, let us stay in their homes. You will see a side of the country [on a bike tour] that you'll never see any other way."
The pair were able to honor other fallen comrades besides Johnny Strong during the ride. "We were going to be in Chicago on Memorial Day Weekend," recalls Knight. "Two other Marines killed in our squad were buried within 50 miles of Chicago. Raleigh was able to bring in a group of riders to go with us from one memorial to the other. We got to visit the families…it was a huge healing moment for both me and Denny."
Knight had scheduled 24 hospital visits during the tour, and they proved to be enlightening. Child's Play provides much more than toys to young patients, and Knight and Salisbury met the staffers, called child-life specialists, that make the most of these materials. Patients in a children's ward span a wide range of ages, points out Knight, with a wide range of needs. "Take a 5-year-old that needs a bone transplant or radiation—they're missing development time, missing school, etc.," he explains. "A child-life specialist uses educational toys to keep them engaged, keep them talking with their friends, or for homework. One patient got to be at middle school graduation through Skype. These things allow them not just to grow and be educated but to feel normal, part of society they left behind."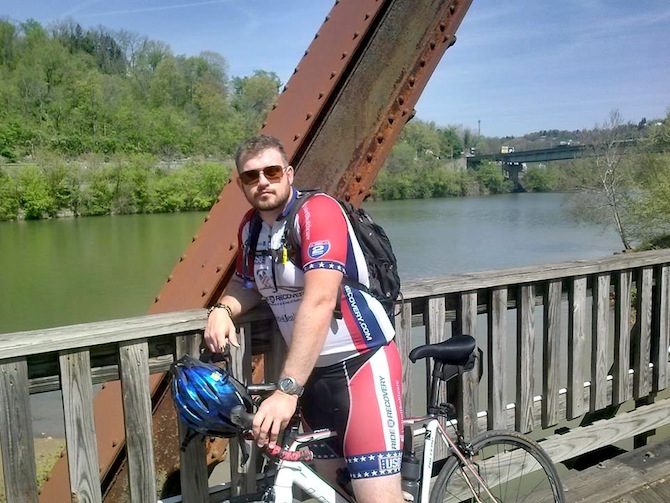 As is often the case with an epic tour, what could have been another tough moment turned into a good one. Salisbury had to leave the ride for a short time just as the tour arrived at the formidable mountains of Colorado. "I was by myself," says Knight, "100 miles away from the Denver suburbs, and decided to do it all in one day. I packed up trailer with about 90lbs. of gear, headed out at about 4 a.m.— probably the best day of the entire trip. Just me and my bike. The fog lifted like a blanket, revealing the world around me. Something that I would never have gotten to do without a bike."
After reuniting on the road out West, Knight and Salisbury made it to Seattle in time, and raised $14,700 along the way for Child's Play. Knight says he is planning to write a book about the trip. And how about another trip? "I have made plans to do some cycling in Europe, but I don't see myself wanting to do another cross-country trip," he says. But this trip accomplished so much more than most.
Donations are still being accepted for Pax2Pax for Child's Play here: pax2pax.org/get-involved/donations
*The Militis 1 is not designed to take the load of a trailer, and we do not recommend this particular use for these bikes.