Sally Talks Shop: What it's Like to Work in Bike Marketing
Being in the marketing department for a cycling company is unlike any other industry—this is an industry where being a character is encouraged, and having a personality can actually help to elevate your company. And personality is arguably where Brian Fornes, Raleigh's marketing guy, truly excels. We sat down with Brian (otherwise known as Sally), to get some insight into one of the best known names in the business.
How did you get into the biking industry, and what brought you to Raleigh?
I did the whole bike shop thing, then I was a pro wrench for a while, and was loving it; I thought I wanted to do that. But I burned out, got away from cycling altogether and became a ski bum for a few years. Then I realized that I liked bikes and the people in the bike world too much. That's about the time a buddy at Raleigh offered me a job. I jumped at it and I packed everything in my car a week later and drove to Seattle with no plan on what to do when I got there. I pulled into the Raleigh offices on Monday morning and started working. I had no idea what I was going to do or where I was going to live, all I knew was I had a job. That was eight years ago, and I started in the warranty department. I eventually took over the marketing spot, after I helped out with some of the blog posts, and I was doing rides around Seattle, alley cats, stuff like that. Raleigh had a pretty dry perception, and I wanted to change that perception, let people know that passionate people work here. It took off from there.
What are your favorite things about working in marketing for the cycling industry, and why?
The people. You talk to anyone who is in the bike industry and they say the same thing. People are just so passionate. It's really awesome. And the culture of beer in the bike world has helped considerably. My bosses follow me on Twitter and Instagram and they know that often times, when I'm drinking I'm working. Plus I get to see and help create new bikes all the time. I have a hand in making those things and the direction of how they look. It's pretty rad.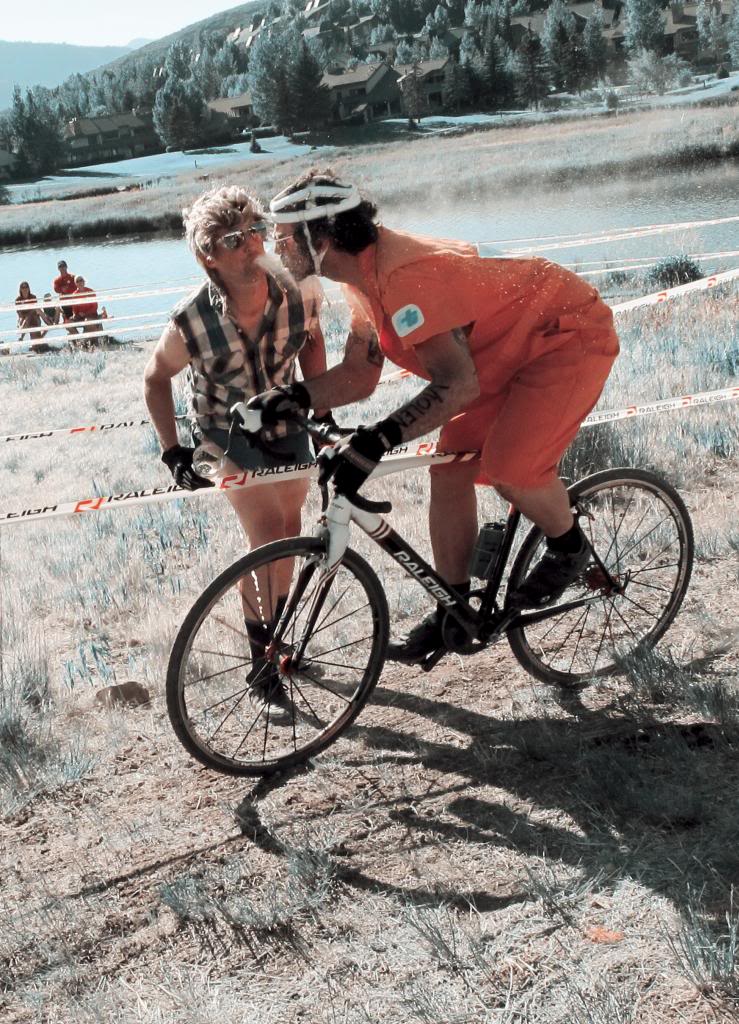 And you get to work with pro racers!
Actually, that was a total pipe dream, the whole Raleigh-Clement team. When we first started with the MidSummer program, I thought we'd be on the sidelines most of the time in a little trailer trying to go around and promote our bikes. But it really took off because of the whole personality of 'cross. The family attitude behind it was big with the higher-ups, and that's why we've gotten to help make it grow. It's been great getting to try to push that farther and farther to the point where we now have riders like Ben, Jamey, Caroline and (of course) Craig Etheridge.
What are the down sides to the job?
Getting paid to do what you love to do is awesome, but I'm never going to get rich; there's not a lot of money in bikes. I'm fine with it though. I can afford to keep beer in my fridge and I can afford to go on bike trips. I can't complain, though it'd be nice if the attitude could change about bikes and the people in the industry could afford to live a little bit better.
What advice would you give to people wanting to break into the industry? How do they climb the ladder?
Stay true to what you feel is the spirit of cycling, and try to convey that in a genuine way. It takes time.
There can be a more creative side to it. Actual bike culture is often overlooked and if you can help hone and contribute to a culture. For instance Hodala started by accident as just a fun dedicated single speed squad, but it has since turned into something much more. Love it or hate it...it has become part of the scene. You start creating cycling wherever you are. It shows that you're truly passionate about it and that you get what cycling is.
How do you balance being such a wacky character with the serious sides of job?
I grew up in the Midwest; I have a farmer's mentality. I try to get shit done and then I kick back. The two often overlap each other, in cycling even more so, because beer is part of the culture of cycling. So being able to talk work over a couple of pints…there's a time to work and a time to play and sometimes they overlap.
What's the best beer to drink on the job?
Rainier for on the job. It's light and palatable and I love that everyone in the beer world calls it 'drinkable.' I always wanted to use that in a bike thing, saying a bike is 'ride-able.' You know, 'It's got a great color to it, it has these awesome wheels, and it's ride-able.'
*Interview provided by Verde Brand Communications