Snacks for Long Rides, Part 3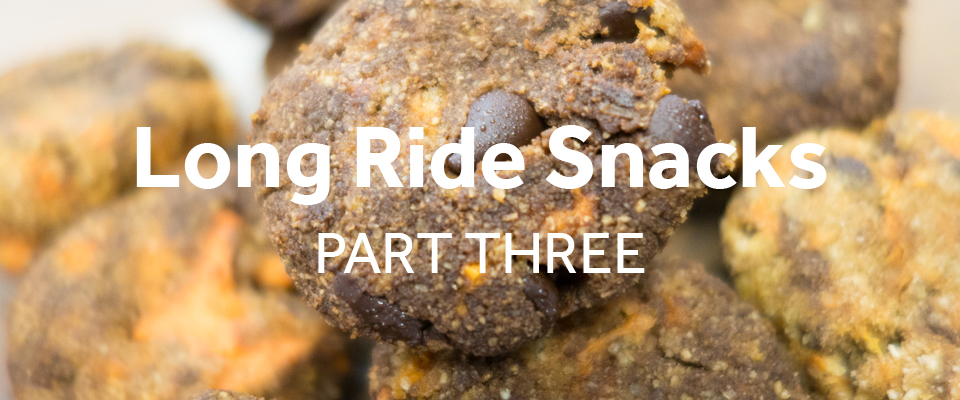 Our associate brand manager chose this recipe as one of her favorites for fall. Although you'll have to cook the sweet potatoes before you start, once you've got your ingredients together, the recipe is fast and easy to make. These cookies satisfy your sweet tooth without a sugar crash and leave you feeling good, on and off the bike.
This recipe comes from the book The Athlete's Fix by Pip Taylor and is used with the author's permission. Pip is an accredited sports dietitian and a professional triathlete.
Sweet Potato Chocolate Chip Cookies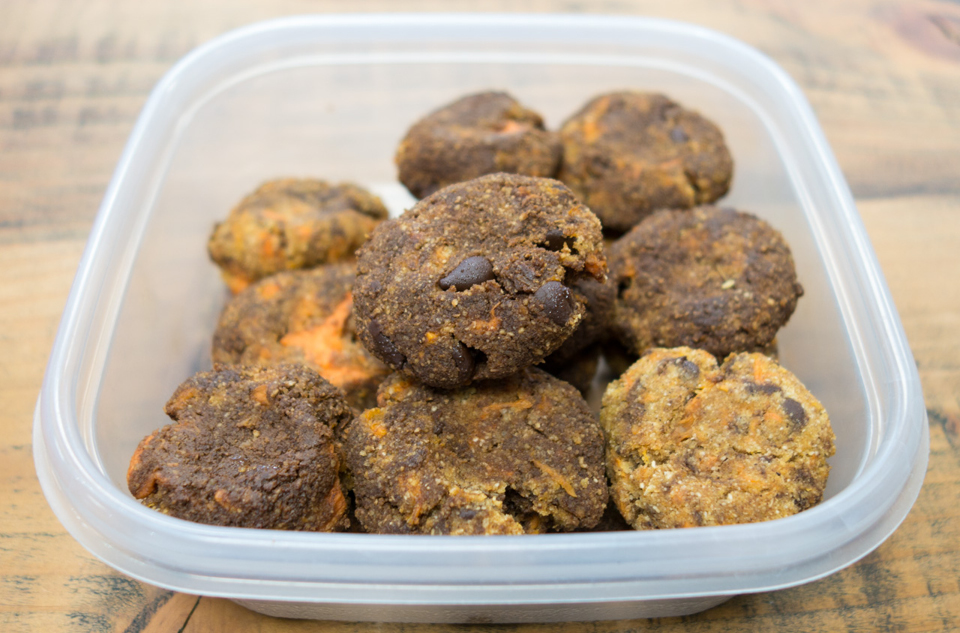 Serves 4
Use leftover roasted sweet potatoes in these cookies or simply steam peeled sweet potato chunks in the microwave, then mash well or puree and let cool.
1 ½ cups (380g) sweet potato, cooked and mashed
½ cup (55g) coconut flour
¼ cup (60ml) coconut oil, melted
1 Tbsp. palm sugar or maple syrup
2 eggs, lightly beaten
½ tsp. ground cloves
½ tsp. ground nutmeg
½ tsp. ground ginger
1 tsp. cinnamon
1 tsp. baking soda
½ tsp. sea salt
½ cup (155g) dark chocolate chips (at least 70% cacao)
Preheat the oven to 350⁰F (180⁰C). Line a baking sheet with parchment paper.
In a large bowl mix all the ingredients except the chocolate chips, stirring until well combined. The dough should be thick but smooth.
Fold in the chocolate chips until evenly distributed. Place spoonfuls of the dough on the prepared cookie sheet, pressing down on the top of each cookie slightly with your thumb or the back of the spoon. Bake until golden, about 20-30 minutes. Let cool on the baking sheet.
Store the cookies in an airtight container in the refrigerator for up to 5 days.
Makes about 12 cookies.
Source: Pip Taylor, The Athlete's Fix (Boulder, CO: Velo Press, 2015).