Snacks for Long Rides, Part 4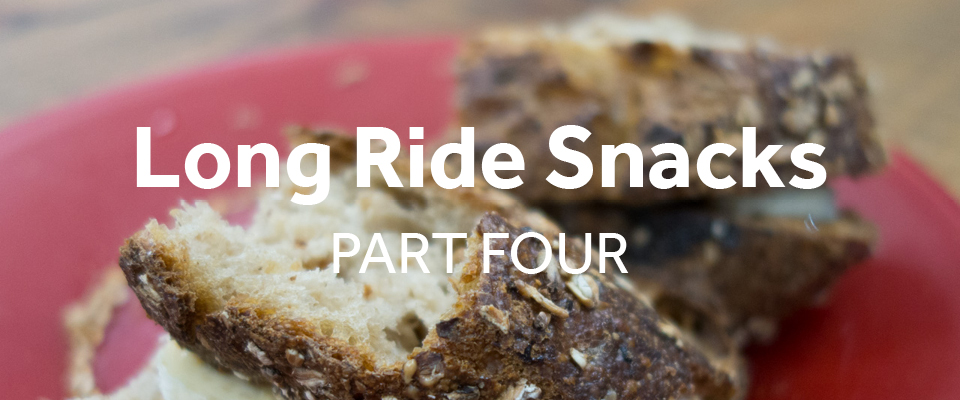 Some days you don't want to eat the usual bars and gels on the bike, but you don't have time to make elaborate alternatives. To fuel your rides when you'd like a change of pace, our team pulled together this list of eight delicious snacks that require little or no prep time:
Nut butter sammies
Use whole grain bread, spread with your favorite nut butter and honey, and add sliced banana. Try almond or cashew butter if you need a change from good ol' peanut butter.
Meat and cheese sandwich
Try using hummus or smashed avocado in place of mustard and mayo for extra nutrition and a change of flavor.
No-Bake Energy Bites
One of our sales reps likes to keep it moving on long rides. Made from rolled oats, peanut butter, ground flax seed, and a few other ingredients, they're perfect for stashing in the hip pocket of your trail shorts. Tip: grind the flax seeds with a coffee grinder.
Trail mix
We're partial to those with dried cranberries and nuts, but there are so many varieties available, you're sure to find one you love.
Bananas
Who doesn't love bananas? Probably someone, but we think those people are … bananas.
Scandinavian Swimmers from Trader Joe's
Using only natural flavors and colors derived from fruits and vegetables, these squishy treats are fun to eat for all ages. We especially like them late in a ride as a little pick-me-up.
Epic Bison Bars
Yes, they have grass-fed buffalo in them to make you feel healthy, but what really makes them good is that they also have bacon in them. Mmmmm … bacon.
La Croix sparkling water
We like it at as a flavorful alternative to plain water. Pairs will with any and all of the above.
Insider tip: Say goodbye to saggy jersey pockets and load up a Swift Industries Cascade Paloma handlebar bag with your snacks. Find a scenic route, grab some friends, and make a day of it!